A Christmas Story is one of those movies that has become a fixture of American culture in ways that you can notice even if you've never seen the film. Various characters and scenes from the movie have found their way onto "A Christmas Story" t shirts, among other kinds of merchandise. Let me tell you a little story.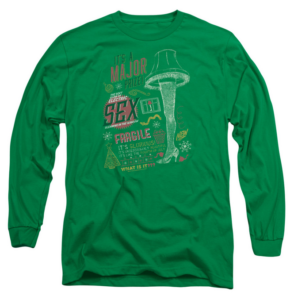 Once upon a time, it was around Christmas and I was walking to the gas station. I forget exactly what I was after. It may have been eggnog because I was feeling festive. It may have been cigarettes, because I still smoked back then. It may have just been snacks, a protein bar or shake. I don't remember if I was lifting weights at the time, but it might have been a protein bar I was after. This was when I lived in a sleepy mid-sized Midwestern city.
I usually walked to the gas station because I didn't like to drive when I could walk. I had a car. I'm just a person who walks everywhere. Especially after I've moved to a new place, I feel that it's better to walk everywhere than it is to drive. When you drive, you're insulated from the location. You don't see much. When you walk, it forces you to get up close and personal with the new place you're living in. And that is what makes all the difference in really making yourself at home in a new town. I had lived in that city for a few years by then, but I always took walks and tried to take a different route each time. I felt that it made the place more personal for me.
So there I was. It was a few days before Christmas. There was a lot of snow on the ground. It was the wet, crunchy snow that falls in that part of the world sometimes. Not light powdery stuff, oh no. This was heavy and deep. I was wearing a set of hiking boots and they were still leaking a little. It was a brutal winter. I lived in a suburb on the edge of town and there were streetlights all the way to the gas station. Their light was cold and blue. I was all bundled up in my scarf and gloves and ankle-length coat. I had a big beard back then and it had ice crystals in it.
As I walked to the gas station, I passed many houses. It was dark, but not too late in the evening, so a lot of them still had lighted windows. I paused at one of them because something perched in the window caught my eye: It was a lamp, shaped like a woman's leg, with a lampshade on top. It's the exact same lamp that the father receives in the mail in A Christmas Story! I smiled to myself and thought, "Well, I guess somebody won a major award…"